Logistical limitations are a thing of the past when it comes to teaching and learning new skills, and Skills Lab's Dr Gary Allwood is living proof.
Gary's extensive work in delivering cyber physical training to New South Wales through Skills Lab was recently acknowledged at the 2022 NSW Training Awards, an annual series of awards conducted by Training Services NSW to recognise outstanding achievements in the vocational education and training sector.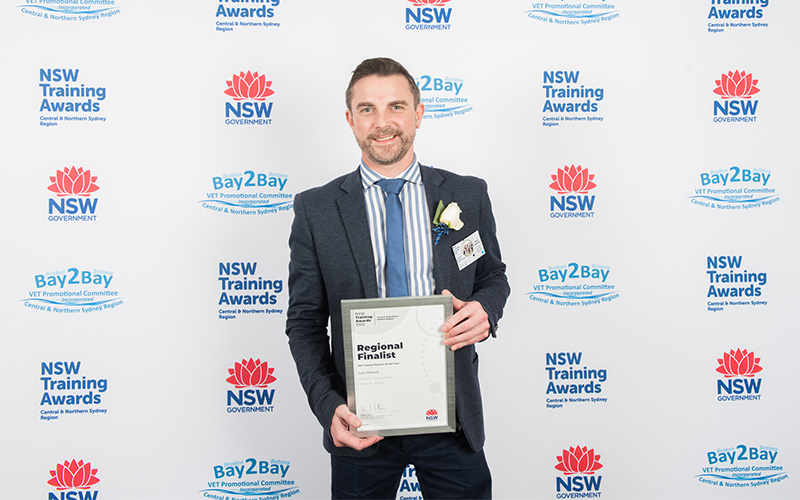 Dr Gary Allwood at the Central and Northern Sydney Training Awards regional presentation.
The NSW Training Awards aim to both honour and reward the achievements of students, trainers or teachers, Registered Training Organisations, and large and medium employers while unearthing vocational education and training (VET) ambassadors in New South Wales.
Despite being based in Western Australia, Gary's work has been instrumental in providing opportunities for current industry workers, organisations, and school leavers in New South Wales to upskill in specialist areas, assisting in safeguarding the future of the state's workforce.
A regional finalist in the NSW VET Trainer of the Year Award category in the Central and Northern Sydney Training Awards, Gary was honoured with a commendation at the Regional Awards Presentation in Luna Park, Sydney in June.
A Training and Operations Manager with Skills Lab, Gary is responsible for developing and delivering a wide range of industrial digitalisation micro-credentials and qualifications, liaising with clients to design and contextualise suitable training courses while guiding the wider Skills Lab training team.
His work in developing industry-specific courses while also ensuring they are accessible via innovative online learning has been pivotal in providing avenues for all Australians to learn valuable skills.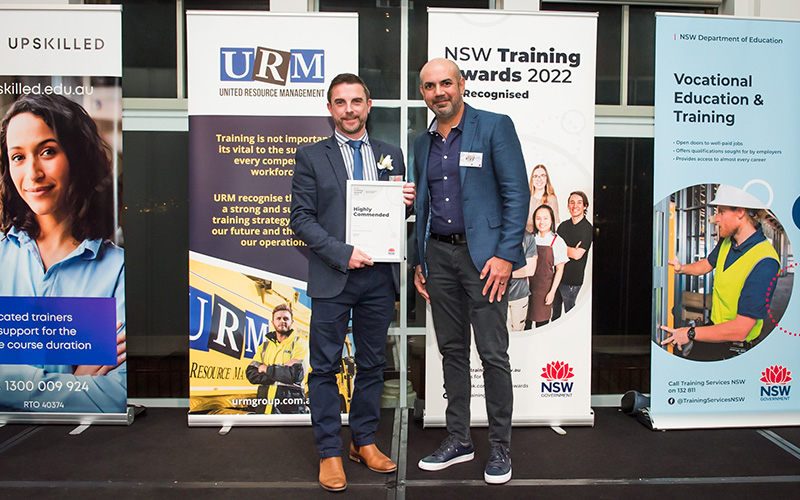 Dr Gary Allwood receives his commendation award at the Central and Northern Sydney Training Awards.
With modern technology advancing at a faster pace than the workforce is currently equipped to handle, addressing the issue of accessibility is one critical element helping to alleviate the nationwide skills shortage facing Australian industry.
Dr Allwood's work to combat this issue and ensure every Australian can access the training they need is in part due to his ability to understand specific industry requirements and learner needs, according to Skills Lab Executive General Manager Laura Mabikafola.
"Gary has the unique ability to listen to the market, connect with organisations and understand the skills gaps that exist," she said.

"He is then able to design solutions to meet these needs that deliver valuable outcomes for both the learner and the organisation."
Accessible, industry-relevant, stackable training
With the pandemic restricting our ability to travel and ultimately altering the way we think about working and learning from home, Gary – in the midst of COVID-19 – pioneered Skills Lab's cyber physical training delivery.
An innovative form of online training, cyber physical training utilises advanced technology to replicate an in-lab experience, providing students all around Australia with the ability to access a variety of specialist industry training.
In addition, Gary had significant involvement in the development of Skills Lab's 22 micro-credentials, a unique style of short courses that allow learners to "stack" their bite-sized learnings into more extensive, industry-recognised credentials.
Skills Lab delivers a wide range of industry-specific training Australia-wide, offering both in-person and cyber physical learning, many of which are run by Dr Allwood.