Skills Lab is thrilled to have been named in CORE Innovation's Hot 30 Awards for 2023, recognised for innovation in training delivery for a rapidly changing energy and resources sector.
CORE's Hot 30 Awards recognise the best technologists and entrepreneurs driving innovation across Australia's critical industries, including energy, resources, oil and gas, space and defence. The awards are also about recognising organisations who are solving real-world challenges across the mining, energy and resources sector as it transforms.
The awards night highlighted the increasing digitisation across the resources sector, and the transition towards green energy being a critical move for industry.
Skills Lab identified a shortage of technology skills relevant to smart grid and energy technologies and has contextualised the learning outcomes from the Diploma of Applied Technologies to meet this immediate need for upskilling within the industry.
The smart grid-focused Diploma of Applied Technologies uses industry-standard microgrid automation components in a network with realistic hardware-in-the-loop power generation and demand modelling, and real big data sets. This innovative approach provides learners with hands-on experience in a safe and controlled environment, preparing them for the challenges they face in their roles.
Laura Mabikafola, Skills Lab Executive General Manager, commended CORE for recognising the support and encouragement the awards have in encouraging new solutions in renewables, resources, mining and energy.
"We're really excited to be recognised by CORE, and to be included on the Hot 30 list with such incredible innovators. Industry is really shifting to optimise the huge opportunities presented by technology advancements, and we know the importance of building skills to complement this growth,"

"Developing learning outcomes suitable for this industry is critical, and Skills Lab is excited to be able to move quickly to meet this industry-driven need with a focus on building skills that are real, relevant and can be applied," said Ms Mabikafola.
Renee Hakendorf, National Lead, Core Innovation Hub, said the winners of the CORE Hot 30 were outstanding in their fields.
"The Hot 30 represent the very best of our next generation of businesses which are developing new technologies and using innovation to solve real-world problems for Australia's biggest industries,"
"It's fantastic to see a training organisation like Skills Lab supporting this innovation through their delivery of hands-on training which is drawn directly from those in the mining, energy and resources sector," said Ms Hakendorf.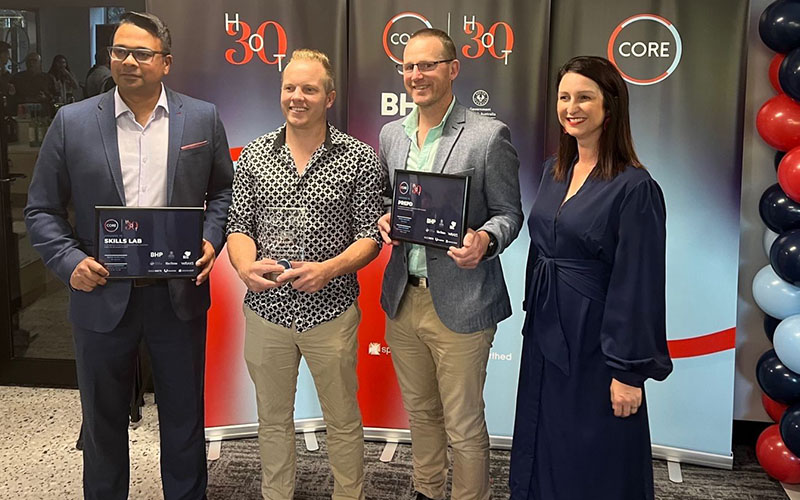 Skills Lab's Brendan D'Souza (far left) pictured with fellow South Australian Hot 30 List members and
CORE's Renee Hakendorf (right).
This year's awards saw the largest number of entries ever, with more than 80 applications received from SMEs across Australia.
A part of the SAGE Group of companies, Skills Lab draws on the project learnings from energy and resources projects delivered around Australia, and internationally. Working across these types of projects enables course materials to be developed in step with the transition of the resources and energy sector, ensuring learning outcomes are suitable for the industry.
Skills Lab was the first training organisation to launch the Diploma of Applied Technologies nationally in 2020.
Learn more about Skills Lab's course offerings.