SAGE Group company Skills Lab, is celebrating after the Australian Skills Authority (ASQA) approved its application to become a Registered Training Organisation (RTO).
The exciting development has allowed Skills Lab to add a host of 'accredited' courses to its existing curriculum – which are recognised Australia-wide.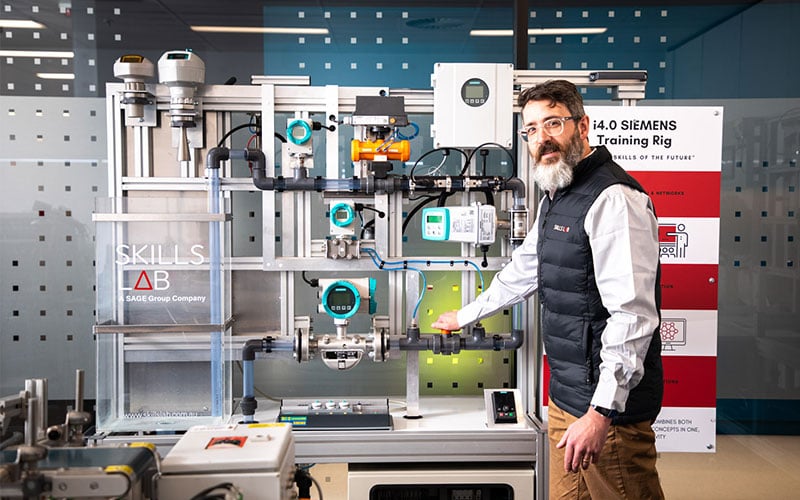 Accredited courses include:
• UEE43220 - Certificate IV in Industrial Automation and Control
• UEE40420 - Certificate IV in Electrical – Instrumentation
• UEE31220- Certificate III in Instrumentation and Control

Skills Lab will continue to offer a variety of non-accredited short courses in automation, PLC and SCADA, as well as customised training and coaching.
General Manager of Skills Lab, Laura Mabikafola, said becoming an RTO was a crucial step for the brand, which has been operating as SAGE Training since 2007, until a name change last year.
"As an RTO, we will continue building 'capable workforces', now amplified by offering even more training options that the industry desperately requires" said Ms. Mabikafola.
"Our trainers are all practicing engineers, electricians or instrumentation specialists so this connection to industry and current projects is what really sets us apart. Our competencies are delivered using world-class, purpose-built equipment, in-line with current, in-market technology" she said.
For those who work in remote locations, there is state-of-the-art 'virtual face-to-face' technology – available to anyone with an internet connection.
Learn in-person or remotely: Skills Lab's virtual face-to-face technology makes it possible to learn from anywhere in Australia with a high-speed internet connection.
SAGE Group CEO Adrian Fahey said Skills Lab achieving RTO certification highlights the quality and relevance of the training provided which will support Australian business to embrace digital transformation and thrive.
"Australian industrial operators are experiencing unprecedented technology advancement with the adoption of Industry 4.0 and digitalisation. Skills development is high on the agenda of industry right now and we are delighted to provide solutions drawing upon our unique capability to support industry to lead into the future."
"Skills Lab certainly is uniquely positioned to deliver real skills development. We provide access to the latest industrial equipment, drawing upon current industrial solutions across a range of sectors, and deliver training via our talented engineering specialists who work in the field every day," he said.
Skills Lab will continue expanding its offering, with future plans pointing towards topics surrounding digitalisation and Industry 4.0.
Enrolments are open to applicants across Australia, in both accredited qualifications and short courses.


Upcoming short courses:
Introduction to Automation
Adelaide, 14 - 18 October, 2019
PLC Intermediate
Adelaide, 22 - 25 October, 2019
SCADA
Adelaide, 29 October - 1 November, 2019
PLC Advanced
Adelaide, 5 November - 8 November 2019
There are still limited spots available for virtual students to join our Adelaide classes, enquire here