Jacob Manuel is a Digital Apprentice with Skills Lab, working for global engineering, management and development consultancy company, Mott MacDonald. Jacob is a Junior Digital Designer, getting paid to learn on the job.
Skills Lab's Digital Engineering Apprenticeship program seeks passionate, technically-minded school leavers to join top engineering organisations for a three-year training model where apprentices earn while they learn.
Currently, in the final year of his apprenticeship, we thought we'd catch up with Jacob to discuss how he's finding the programme!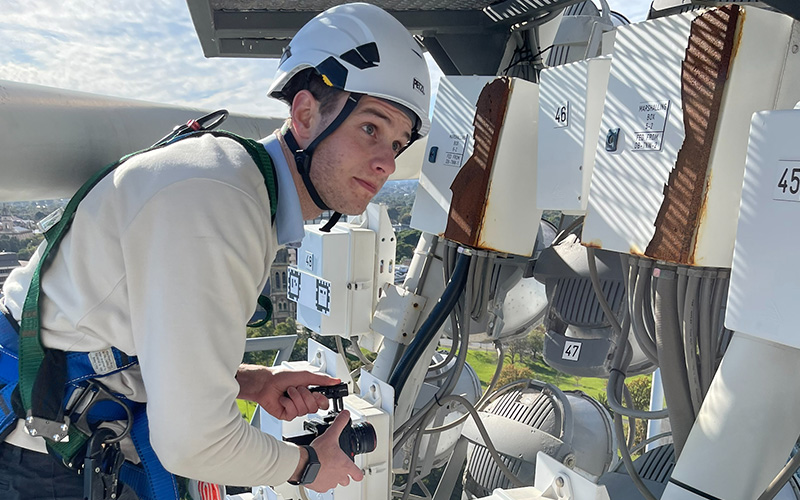 Jacob uses a 3D photogrammetry scanner on a recent visit to Adelaide Oval light towers with Mott MacDonald.
What made you want to become a Digital Apprentice?
Throughout school, I sort of struggled with academic studies and just sitting there looking at a textbook. I graduated from Year 12 in 2019 and worked as a lifeguard throughout 2020, but wasn't sure where to go with my career. I enjoyed woodwork, CAD modelling, CAD drafting, and stuff like that, but didn't know which pathway to take.
I knew that University wasn't the best option for me because I didn't know where I wanted to go but I knew I enjoyed hands-on learning, and that's why this apprenticeship caught my eye.
As a Digital Apprentice, you're spending 38 hours a week in the workplace, learning hands-on with the technology. I heard about the apprenticeship through word of mouth and decided to apply for it and hope for the best.
And you were a successful applicant! What is your current role?
I am a Junior Digital Designer at Mott MacDonald. My day-to-day work mainly consists of 3D modelling and design drafting of different engineering services such as hydraulics, electrical, cage vax systems, plumbing, roof, or walls – everything that makes up a building.
I'm passionate about 3D modelling and 3D printing. Knowing that there were elements of this apprenticeship that would expand my knowledge in this area was very appealing. I'm lucky enough to do 3D modelling and 3D printing in my day-to-day job, and this is what I've enjoyed and continue to enjoy about the Digital Apprenticeship and my work with Mott MacDonald.
What does your day-to-day work look like?
At the start, you have to learn the programs so that you can work efficiently using the various systems your employer has in place. For instance, I had to get my head around the Autodesk Suite and feel confident using it in everyday work.
Mott MacDonald gave me some examples and replications of existing projects and tasks that I could do in a safe, controlled environment, which was great for my ongoing learning.
Eventually, that turned into real project work. I've been given designs by engineers that look like 2D drawings, and I've been able to apply the skills that I've learned across the programs to produce a 3D model.
What training is involved in the Digital Apprenticeship?
There are study components and work components. Every six weeks, my group of Digital Apprentices has one full week of study with Skills Lab. Often, I work on-site or via cyber physical training, learning a range of different skills, including engineering materials, 3D modelling, and 3D printing.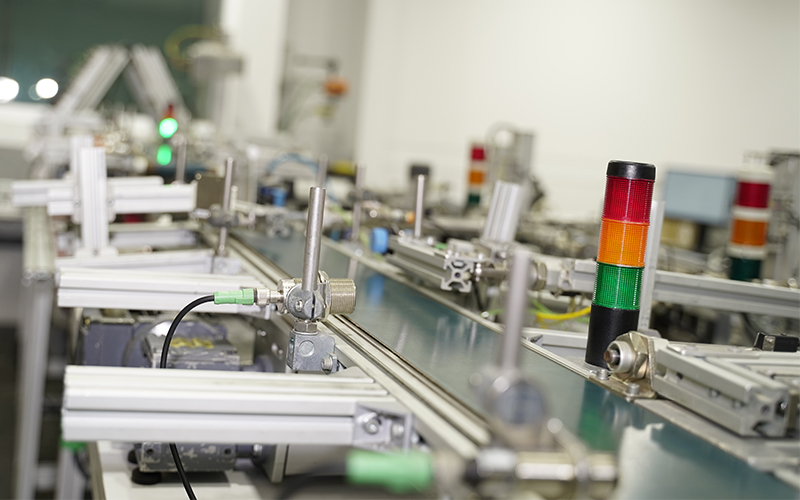 Skills Lab utilises industry-standard training rigs to mimic a factory environment.
More recently we've been learning more about data, and how to extract data from sensors and put that into a dashboard, focused on Industry 4.0 and connected sensors. Lots of the content supports what I've been doing on a day-to-day basis, while some of the content is different, providing a good opportunity to learn and try new areas that I haven't been exposed to yet.
Was the pay-to-learn factor a drawcard?
Yes, but the most valuable part for me is being able to get my foot in the door and start working with professionals. Skills Lab's Digital Apprenticeship allows you to work at highly respected businesses around Australia, learn from experts, and make connections with people within the industry.
I've been inspired by people who have been in the industry for 20 years and I've learned so much from them.
I am consistently asking questions and trying to absorb as much knowledge as I can and find out about their career journey.
What would you say to anyone considering applying for an apprenticeship?
Just ask yourself, where do you want to be? What do you want to be doing? If you're not sure, but you want to get started in the engineering space, maybe this apprenticeship is for you. It's going to give you three years of experience, the opportunity to learn from experts, and work on real-world projects. And getting paid to do it is a bonus!
Jacob is preparing to finish the last year of his apprenticeship. Now equipped with the nationally recognised Diploma of Applied Technologies and three years of hands-on experience at Mott Macdonald, he has a bright future ahead.
Exploring your options? Become a Digital Apprentice.


Paid, on-the-job learning
Nationally accredited Diploma of Applied Technologies
Additional modules, tailored to your projects, focusing on a range of tools including visualisation, CAD, GIS and programming
Access to industry-leading technology
Support from working engineers and technicians
Collaboration with fellow apprentices based in other top-tier organisations
Pathway to lifelong learning.