Leading defence industry association, The Defence Teaming Centre (DTC), has partnered with Skills Lab to deliver training for their innovative leadership program.
Skills Lab will provide hands-on professional development training for the 2022 Defence Industry Leadership Program, an eight-month program spanning March until November where successful graduates obtain a Diploma of Leadership and Management.
The Minister for Defence Industry, the Honourable Melissa Price, spoke via video conference at the official program launch held in Adelaide this week, highlighting the value of providing development pathways for businesses and workforces in the defence industry.
"This program provides an avenue for a wide range of defence organisations to gain the leadership skills required to support a rapidly expanding workforce in the defence sector," Minister Price said.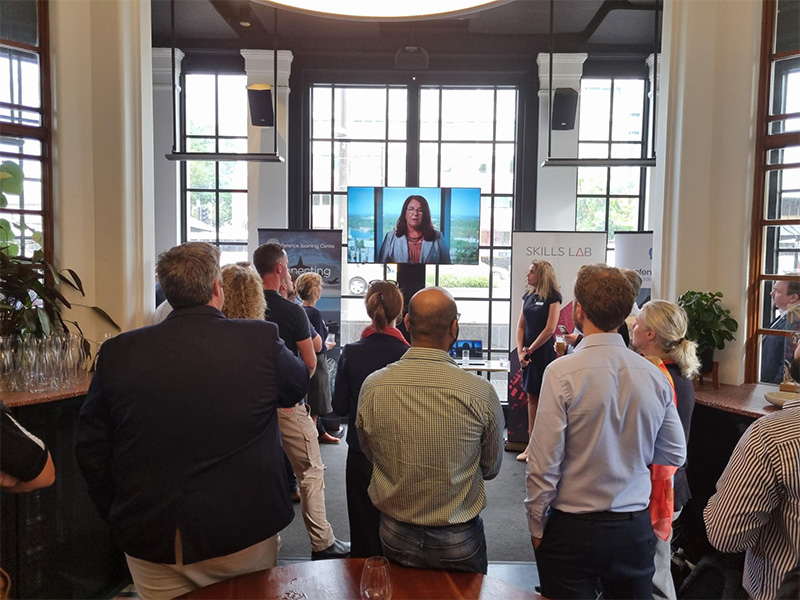 The Honourable Melissa Price addresses the audience via video conference at the Defence Industry Leadership Program launch.
"The Defence Industry Leadership Program is a great initiative to ensure exceptional leaders continue to emerge in defence and develop the critical skills that can sometimes be overlooked with the heavy focus on technical capabilities across the industry," she said.
The Defence Industry Leadership Program attracts participants from all levels of organisations and from a wide range of sectors connected to the defence industry, including defence primes, SMEs, state and federal government agencies, professional services, and other connected industry sectors.
The program consists of a series of workshops, presentations from senior defence industry specialists, site and overnight visits, and a key project.
The Defence Teaming Centre partners with Skills Lab to deliver the training for the first time in 2022, joining the Department for Innovation as a partner, who support the program as part of their ongoing Skilling SA initiative – aimed at helping more South Australians gain valuable skills and qualifications.
Skills Lab will be delivering 12 accredited units which, upon successful completion of the program, awards participants with the industry-recognised Diploma of Leadership and Management.
Skills lab Executive General Manager, Laura Mabikafola, who is also a member of the Defence and Aerospace Industry Skills Council, said that the program fills a critical need for the defence industry.
"Defence, like so many sectors, face the challenge of an Australia-wide skills shortage as industry adapts to new and innovative technologies that change the way we work," Laura said.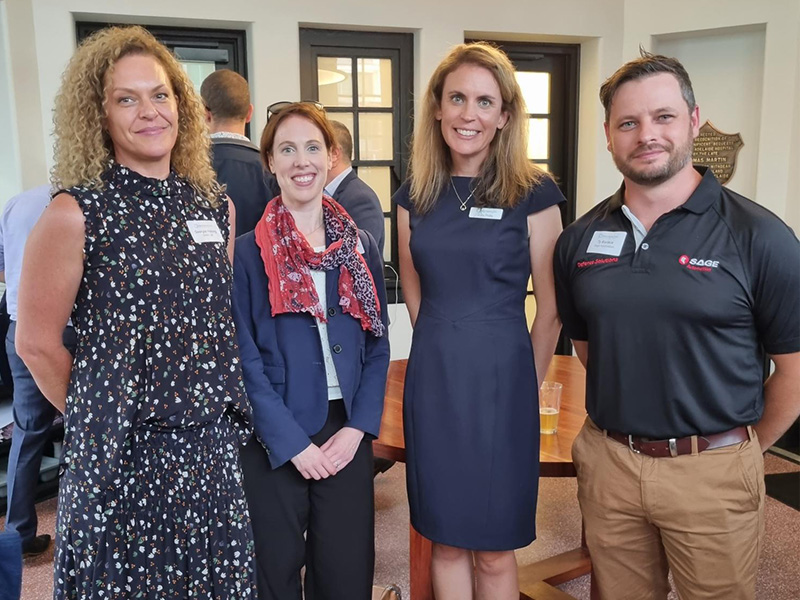 Skills Lab's Georgie Hoberg, SAGE Group's Cassandra Shuard, Defence Teaming Centre's Julia Phillis, and SAGE Automation's Ty Borlace at the Defence Industry Leadership Program launch in Adelaide.
"Skills Lab is proud to be supporting DTC in delivering a program that ensures high-quality leaders are embedded in the Australian workforce, equipping them with the necessary skills to adapt and lead others in a fast-changing work environment," she said.
"This program has a strong focus on developing leadership through personal and professional development, leading critical and innovative thinking and practice, and effective teamwork."
Skills Lab, SAGE Automation, Nukon, and Embedded Expertise – who form part of the digital transformation company, SAGE Group, offer a wide range of industrial digitalisation services – including SAGE Defence.
SAGE Defence combines the collective expertise across SAGE Group to support defence primes and original equipment manufacturers with system integration, design and delivery of electrical control systems, LV switchboard and control panel manufacture, set to work support, through-life support (TLS), data analytics, and training.
Skills Lab delivers a wide range of industry-specific training Australia-wide, offering both in-person and cyber physical learning.